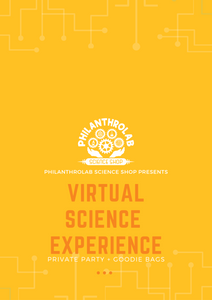 VIRTUAL SCIENCE EXPERIENCE Party/Co-op Class
Regular price $165.00 Sale
Step 1: Party/Co-Op Class Request email philanthrolab@gmail.com
Below is the List of Classes.
Please send your choice and specify a Day and Time in email. 
Schedule request is subject to availability.
Classes are approximately 30 minutes on Zoom.
Great for ages 4-10 years old.
Step 2: Once scheduled please provide payment here.
This is the Virtual Science Experience Party/Co-Op Class with a Certified Teacher. Join Ms. Stacey the Science Lady in one Virtual Science Experience Class.
Includes a Goodie Bag to extend your child's curiosity, exploration, and endless imaginative play; reinforcing the content of every class! 
Zoom meeting ID will be sent by email that is provided at checkout.
Shipments of the Science Toys will occur as soon as the class is purchased. Shipping fee added at checkout is $6.95 for each address. Local Delivery Available. Please purchase the number of shipments per each address unless in Pinellas County.
Do you have a Budding Biologist, Future Physicist, or Mighty Meteorologist? These classes of fun is an amazing way to introduce any Science concept for your child at the ease and comfort of their own homes. By going virtual, children will have:
-Personalized sessions
-Peer interaction
-Small Group learning
-Educational enrichment
Choice of 27 classes (with upto 16 Goodie Bags):
Physical Sciences:
Science of Static
Balance This
Physics of Toys
Bouncy Ball Gravity
Magnet Mania
Rainbow of Colors 
Liquid Science
NEW: Mass & Motion
NEW: Sound On!
NEW: Heat it Up!
Earth/Space Sciences:
In a Cloud 
Snow Science 
Sun in the Sky 
Zoom to the Moon
Geology Rocks 
Deep Sea Diver
NEW: Rocket Rally
NEW: Planet to Planet
NEW: Earth Explorers
Life Sciences:
Learn 2 Observe
Fun with Fossils
My Skeleton and Skin
Bug Out & Bee Gone 
All About Owl
NEW: Plant Power
Other Sciences:
NEW: CSI Scientists
NEW: Nature of Science Secrets
Custom Classes and Parties can be created! Send your theme ideas and any questions to philanthrolab@gmail.com